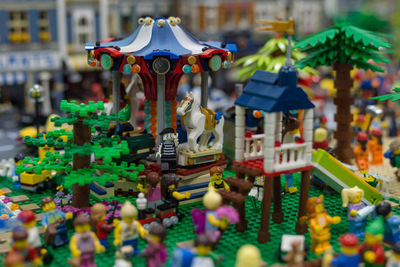 Hello LEGO fans.
This year, in the summer (July 20-21), the Smart Brick Club (Taganrog) decided not only to repeat, but to surpass its last year's festival (read about last year's festival and see some photos from the 2018 event here:
click
,
click
и
click
). Like last year, the event will be held in
Taganrog
.
The event will be held at:
st. Dzerzhinsky, 161 (hotel "Taganrog")
.
July 19 - a day for participants 11:00 - 21:00 (for participants of the festival special prices for accommodation in the hotel "Taganrog" during the festival).
July 20-21, 2019 - a day for guests of the festival - 10:00 - 18:00.
This time at the festival the following sections are planned:
- 550 square meters area
- MOC exposition and the most interesting sets of Lego in recent years.
- Large layout of the city with the railway station and the airport. (almost 30 square meters)
- The city of the future, assembled from Lego Education educational kits.
- Lego Duplo amusement park.
- Themed stands - "Winter Village", "Harry Potter".
- Exhibition of amateur and professional lego - photos.
- A zone for creativity in which it will be possible to assemble a home-made product from various types of Lego. For the youngest lovers of Lego cubes with Lego Soft cubes.
- Master classes in educational robotics and entertaining physics with Lego.
- Interactive events - fighting robots, racing on cars.
While the price of the entrance ticket is not determined, but according to the organizers of the event, it is planned to determine the price in the range of 250 - 300 rubles (around US$4-US$5).
Information page about the festival on the site of the club "Smart Brick":
click
.
For all questions about participation in the festival, please contact Mikhail Kartavenko: https://vk.com/mike82, mk24@ya.ru .
All a lot of LEGO and do not forget to attend interesting events when there is such an opportunity!